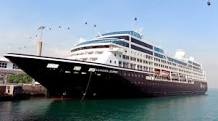 Azamara Journey – Fantastic Cruise from Sydney to Tasmania to Auckland.

The ship holds about 600 people and features open dining, several restaurant choices and room service.

Cabins are limited and Category V1 and V2 are about 175 sq. ft. and the veranda an additional 46 – 64 sq. feet (depending on location). There is one Continent Club Suite still available. The price includes cruise and all taxes (NOT AIR), AzAmazing Experience – something special on each voyage, selected liquors, international beers and wines, gratuities, 24-hour room service, bottled water, coffee, etc. – soft drinks, self-service laundry, concierge services for personal guidance. The ship has a pool, spa, jogging track, several restaurants, gym, sun deck, casino, etc.
V2 Veranda staterooms from $6000 per person for this 18 night cruise.

Itinerary:
February 19, 2017: Sydney Australia
2/20: Sydney
2/21 Sea/Spa Day
2/22 Melbourne Australia
2/23 Sea Day
2/24 Hobart, Tasmania
2/25 Depart Hobart at 6:00 PM
2/26 Sea Day
2/27 Sea Day
2/28 Milford Sound, New Zealand (scenic cruising)
3/1 Dunedin, South Island, New Zealand
3/2 Akaroa (Christ Church) New Zealand, South Island
3/3 and 3/4 Napier (Hawke's Bay Wine Region), North Island, New Zealand
3/5 Tauranga (Rotorua), North Island,NZ
3/6/17 Auckland, NZ (arrive back at 7:00 AM)
For a deposit of $1200 you can hold a cabin until October 20, at which time final payment will be due. If you cancelled prior to that, you can get your deposit back minus $100 service.
Web site is AzamaraClubCruises.com
Contact Maxine Wells at 281-376-7167 for more information and to make a booking.